No Minimum Orders*
Fast turnaround*
No Setup charges
Top Quality
What is DTG (Direct-to-Garment) printing?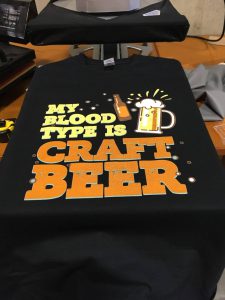 Direct-to-garment printing (DTG) is the process of printing images directly onto a shirt or other fabric-based item using special inks. Comparable to an inkjet printer that prints full color on paper, this printer prints on fabric. The t-shirt, or another garment, is placed directly on the press and the printer goes to work. This process prevents the distortion seen with some other textile printing techniques. After the image is printed directly onto the shirt or other fabric, the inks are absorbed into the fibers and then sealed with heat.
Digital DTG printing takes place directly on the printer, without hand contact. This digital technique allows for a more precise image than is possible with screen printing. Direct-to-Garment is a full-color ink printer, offering full color options, easily customized to print on demand.
The DTG printing process has the advantage of a no-cost setup, as opposed to screen printing or embroidery, both of which require far more time and cost. This printing process allows for high quality, full-color design. It also allows small print runs or even one-off printing of single items.
Do you have brilliant ideas but don't know how to make them come to life? Our professional designers do that too.  Power Apparel, in Surrey, BC, has all the solutions you need for full-color graphics or photos on your garments.
Contact Power Apparel now for a quote or to find out more about our really cool Direct-to-Garment digital printing services.